Make an Old Furniture Planter for Your Flowers
WELCOME to our creative post about how to make an old furniture planter and to give new HOME to your flowers and plants. Stay there and spend half an hour with us and our amazing ideas and beautiful flower pots and planters!!!
Old bureau, old chairs, old shoe storage can be reused in this way and you can be creative to give new life to this old furniture! I beleive that we all have it at home and some of us keep it in the yards! Don't spend your money on buying flower pots, but be creative and make a design by your HANDS!!!
Plant flower on the chair – nice idea to start this post
In the first idea, you will see how to reuse the old chair that we all have it in our home and yard. Here, you can plant flowers and give them a new life and you can do this with all the old chairs you have in the yard!!! Take some inspiration in the photo now.
One unusual planter that will help you to plant here all the flowers you have
In the second photo, you can see how to reuse the old bureau in the perfect way and give new life to the flowers and plants. Don't be skeptic about the color, it's cool yellow, but you can also spray it in the color you wish to!!! Spend some time to see the photo and to learn how to make it!!!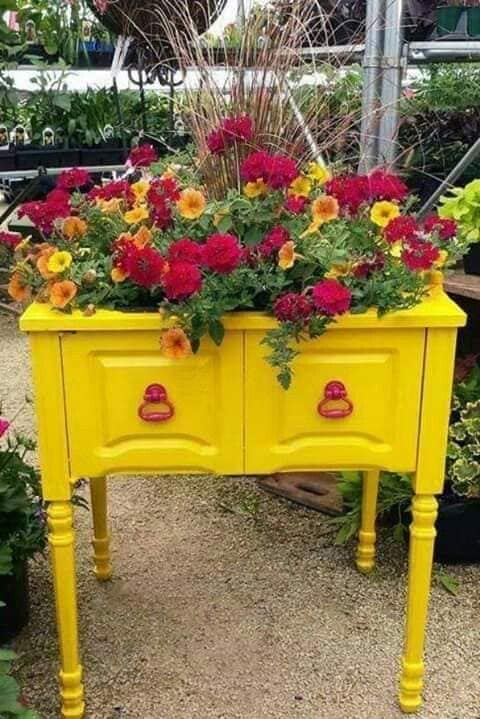 From trash to treasure- you can do this
I think that we should all be creative and we can surely be! We can create a treasure from the trash in the yard, just if we reuse the old furniture and plant our flowers here! Find motivation in the third photo from this post.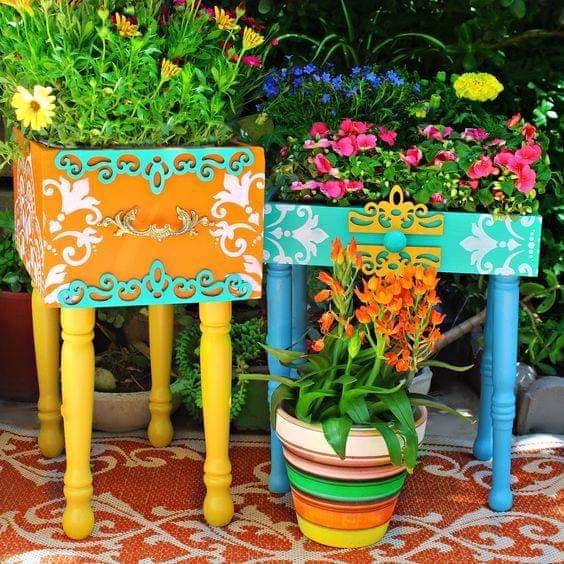 Wood drawer planters are the last idea of this post
We will finish this post with an amazing idea and wood drawer planters. This is a great idea to give a new home for the flowers and the color is your choice! I hope that you found some idea for the yard you have and old furniture you own! Try to make some of these at home and boost your creativity!!!
Also spends half an hour and read about how to reuse the old t-shirts from your son and make a little dress for your little girl!!! Thanks for your attention and wish you to have a nice weekend, by the way, to keep following our page in the future!!!